Upgrades and support
Increase the flexibility of your Productivity+™ system.
Software maintenance programme.
Multi-axis machine support.
Additional CAD importers.
Renishaw CNC Reporter software.
Extend and enhance your existing software
A number options and a complementary software application are available to enhance the functionality of your existing Productivity+ software.
Maintenance

Productivity+ is covered by a 12 month maintenance agreement from the date of order, entitling customers to free of charge product upgrades and exclusive access to on-line training and support materials.
To retain these benefits after the initial 12 month period, users should subscribe to Renishaw's software maintenance programme.
Please contact your local Renishaw representative for more information and pricing.
If you have an active maintenance agreement, use the Downloads or Support links above to download the latest version of your software application, or to search for support information. You will be asked to log in using information provided on your maintenance certificate.

Multi-axis machine support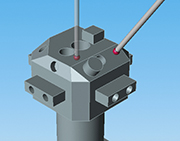 Extend the capability of your Productivity+ installation with the addition of multi-axis machine tool support. Purchase the Productivity+ Active Editor Pro multi-axis option and generate measurement routines for machines with rotary axes.
CAD importers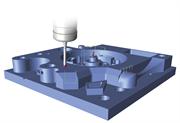 Productivity+ allows users to import a solid model which can then be used to generate a probe routine. Standard software supports the use of STEP, IGES and Parasolid file formats.
To maximise the flexibility of your Productivity+ application, additional CAD importers can be purchased to extend the range of supported solid model file types.
Renishaw CNC Reporter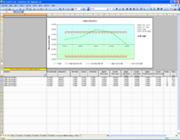 An additional software package, Renishaw CNC Reporter provides a simple yet powerful tool for analysing data and creating printable reports from inspection data created with your Productivity+ software.
The software provides measured feature dimensions, indicates whether these features are in or out of tolerance, and provides a GO/NO GO decision.
The software is created using Microsoft Excel, providing a familiar look and feel, making it easy to configure.