Quick and easy to use
GoProbe is the ultimate easy‑to‑use probing solution.
No probing experience necessary.
Simple single‑line commands.
Easy‑to‑follow steps.
Run probing cycles in manual or automated mode.
GoProbe gets you up and running with your probe in minutes
GoProbe includes predefined part setting, tool setting and probe set-up cycles. Each cycle corresponds to a feature or function common to machine tool probing.
GoProbe only requires simple single-line commands for each probing cycle, eliminating the need for extensive knowledge of G-codes. The user-friendly commands are easy to understand and use, even for those new to probing.
The single-line commands reduce manual data entry errors and save process time, enabling you to set parts and measure tools proficiently, and progress to more advanced measurement and in-process cycles effortlessly.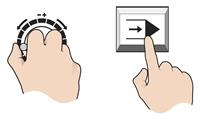 GoProbe offers you the choice of running probing cycles in either manual (JOG/MDI) or automated mode. If you are new to probing, you can opt to jog the probe into position in manual mode, a safe and simple method for helping to build user confidence. If you have some experience of probing, you can progress quickly to automated mode. Both methods are explained in detail in the GoProbe training kit.
GoProbe cycles operate with a series of easy-to-follow steps. Consistent for all part setting and tool setting functions, these steps allow you to develop familiarity and confidence within a simple and easily memorable routine.

Probe with confidence
GoProbe includes a spindle probe check and a tool setter check. These cycles work efficiently to ensure that the probe or tool setter is ready to use, providing added reassurance and confidence before running any part or tool setting cycles.
Our engineers had never used a machine tool probing system before, but they were quickly able to start using our new Renishaw probing system thanks to the GoProbe software and self-study training materials.
R&R, United States
The GoProbe software has been developed in such a way that it is very easy to understand. The use of single-line commands enabled us to get up and running with our new probing system quickly and easily.
Unimac, Pune, India