LT - Sauga
Elektros reikalavimai
ACC2-3 valdiklis yra maitinamas iš kintamosios srovės maitinimo tinklo per IEC 320 standarto reikalavimus atitinkančią jungtį. Prietaiso darbinė įtampa:
100–240 V, kintamoji srovė + 10 % -15 %
47–66 Hz
50 W
Saugiklio keitimas
Yra du 1 A (T) HBC delsiojo suveikimo 250 V saugikliai (vienas yra atsarginis). Saugiklis keičiamas taip:
Atjunkite maitinimą.
Atsuktuvu išstumkite saugiklio laikiklį, kad saugiklis būtų matomas.
Išimkite saugiklį ir pakeiskite jį 1 A (T) HBC delsiojo suveikimo 250 V 20 × 5 mm saugikliu, atitinkančiu IEC127 reikalavimus.
Pakeiskite saugiklio laikiklį.
Vėl prijunkite maitinimą.
ĮSPĖJIMAS. Būtinai pakeitimui naudokite tik nurodyto tipo saugiklius. Šią įrangą prie maitinimo tinklo reikia prijungti trijų gyslų maitinimo kabeliu, kuriame yra apsauginis įžeminimo laidininkas. Maitinimo kištuką galima kišti tik į lizdą, turintį apsauginį įžeminimo kontaktą. Apsauginis įžeminimo kontaktas nebus pašalintas naudojant ilginamąjį kabelį be apsauginio laidininko.
ĮSPĖJIMAS. Dėl apsauginio laidininko pertraukimo įranga gali tapti pavojinga. Patikrinkite, kad būtų griežtai laikomasi įžeminimo reikalavimų.
Infraraudonosios šviesos spinduliuotė
1 KLASĖS ŠVIESOS DIODŲ GAMINYS
ATSARGIAI! Šiame gaminyje naudojami infraraudonieji aptikimo spinduliai. Priešais infraraudonosios šviesos spindulį esanti ašis yra lygiagrečiai angoms, esančioĄms jungties dangteliuose. Nors yra saugu tiesiogiai žiūrėti į spindulį, naudotojui rekomenduojama vengti žiūrėti lygiagrečiai spindulio ašiai arba arti prie šviesos diodo šaltinio, esančio 8 jungties dangtelio dešinėje pusėje.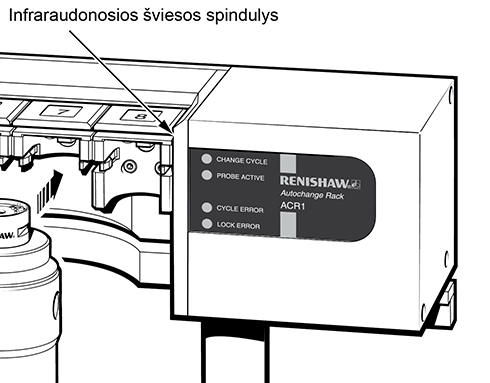 Įspėjimai
Tarp judančių detalių bei tarp judančių ir statiškų detalių pakliuvę objektai gali būti suspausti. Nelaikykite zondo galvutės judant įrenginiui ar keisdami zondą rankiniu būdu.
Saugokitės netikėtų judesių. Naudotojui nerekomenduojama atidaryti veikiančios zondo galvutės / ilgintuvo / zondų junginio gaubto.
Akumuliatorius naudokite ir juos utilizuokite pagal gamintojo rekomendacijas. Naudokite tik rekomenduotus akumuliatorius. Saugokite, kad prie akumuliatoriaus gnybtų nesiliestų jokie kiti metaliniai objektai.
Atliekant visus darbus, kai naudojami įrenginio įrankiai, įrenginys valomas ir prižiūrimas, rekomenduojama užsidėti apsauginius akinius.
"Renishaw" prietaisuose, maitinamuose iš elektros tinklo, nėra detalių, kurias galėtų remontuoti pats naudotojas. Grąžinkite sugedusius prietaisus įgaliotajam "Renishaw" klientų aptarnavimo centrui.
Pakeiskite perdegusius saugiklius to paties tipo saugikliais. Žr. atitinkamo gaminio dokumentacijoje skyrių SAUGA.
"Renishaw" gaminių saugaus valymo instrukcijas rasite atitinkamo gaminio dokumentuose "Priežiūros" skyriuje.
Prieš atlikdami techninę priežiūrą, išjunkite elektros srovės tiekimą.
Laikykitės įrenginio tiekėjo naudojimo nurodymų.
Įrenginio tiekėjas atsako už tai, kad naudotojas būtų įspėtas apie pavojus, susijusius su įrenginio naudojimu, taip pat apie pavojus, minimus "Renishaw" prietaiso techninėje dokumentacijoje, ir kad būtų sumontuoti atitinkami apsauginiai įrenginiai bei blokatoriai.
Susiklosčius tam tikroms aplinkybėms, zondo signalas gali neteisingai nurodyti, kad jo reikšmės atstatytos į pradinę būseną. Nepasikliaukite zondo signalais ir iš karto nestabdykite įrenginio.
ACC2-2 izoliuojama nuo kintamosios srovės naudojant maitinimo tinklo jungiklį, esantį galiniame skyde. Jei reikia papildomų atskyrimo priemonių, jas turi nurodyti ir sumontuoti įrenginio gamintojas arba gaminio montuotojas. Skyriklis turi būti lengvai pasiekiamas koordinatinės matavimo mašinos operatoriui ir turi atitikti IEC61010 bei kitas valstybės, kurioje montuojama mašina, elektros laidų instaliacijos taisykles.